All
Arts
Post Gallery
Video Gallery
In Print: Taps & Moses
See some pages from the 2011 release, TAPS MOSES
Posted By
Craig Johnstone
|
4-Oct-2012
I know it's old news… but…
This book was released in the first half of 2011, but I was un-boxing some books the other day and re-discovered what I consider to be one of, if not, the best graffiti publications of I've ever come across.
If you own this, (and there's a good chance you do) you know why. If you don't own it, get your hands on it. Even if graffiti isn't your thing, this not only contains great photography but also some amazingly creative ideas, tales, bad translation (german to english) and as the back of the book explains, 1000 painted trains in 1000 days.
The 288 page, full colour, hard back also has a super tidy hologram cover.
This might sound like a sales pitch, though I don't mind if you do or don't get it, I just think you should. Instant classic.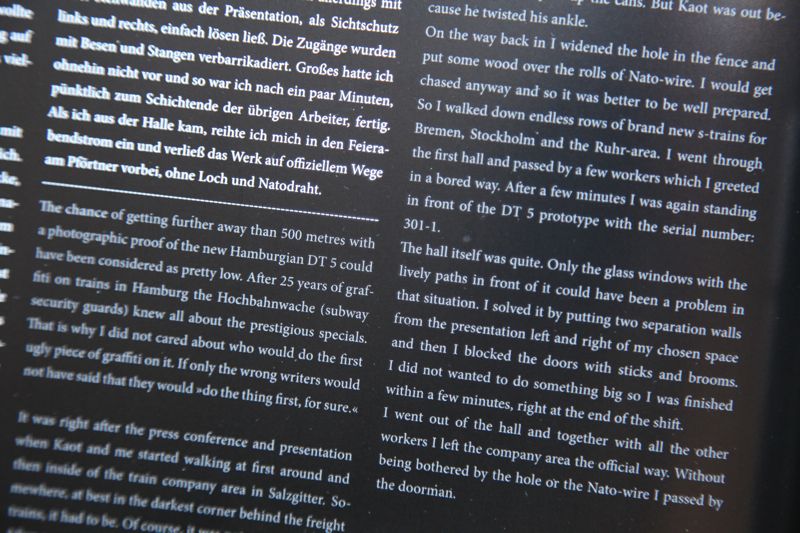 At less than A$40 delivered to your door it's also dirrrrt cheap.
Click the last pic (above) for ordering details.
Related Articles
Trending Articles
Craig Johnstone
Photographer
Craig is a self-taught photographer who has been documenting the underground art scene and whatever else takes his eye since the early 1990s. Having worked with Sneaker Freaker, COP Mag, RRR Mag and Lifelounge, and touring Asia with K-Swiss for the K-Spray 2 tour, Craig is also a member of the getnloose.com team and has recently found a passion for concert and gig photography.